Driver rules and event information for the July 31st Demo Derby have been posted. Click here or visit the Rules page under Driver Info.

Red Cedar Speedway Donates to Menomonie High Hockey

Red Cedar Speedway's supporter Jeremy Bluem has been recognized as the 2022 Super Fan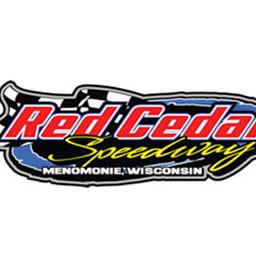 7/28/2022 - Red Cedar Speedway
Menomonie, WI
1st Fair Night Dave Shackleton Memorial Fast Lane Super Stock Series, Mechanics Race
Draw cut off at 6:30 PM Sponsored by Shackleton Tree Service & TMS Auto
Dave Shackleton Super Stock Memorial Race with Fast Lane Super Stock Series.
Also USRA Late Models, Midwest Mods, Hornets, Mechanic Race & Street Drags.
Street Drags please pre-register.
Hornets

13 entries

USRA Late Models

22 entries

WISSOTA Midwest Mods

17 entries

WISSOTA Super Stock

52 entries
Full Event Information on MyRacePass
Hornets
Finish
Start
#
Competitor
Hometown
+/-
1
2
9JR
Jeremy Johnson Elmwood, WI
Elmwood, WI
1
2
4
15C
Preston Coombs Boyceville, WI
Boyceville, WI
2
3
1
3
Alexander Lessard Hudson, WI
Hudson, WI
-2
4
5
35
Alyssa Nelson Merrifield, MN
Merrifield, MN
1
5
7
357
Justin King Roberts, WI
Roberts, WI
2
6
10
357X
Dan Brzozowski Hudson, WI
Hudson, WI
4
7
11
31
Alanna Karis Menomonie, WI
Menomonie, WI
4
8
13
92
David Tonkin Eau Claire, WI
Eau Claire, WI
5
9
9
9SR
Scott Cooper Arkansaw, WI
Arkansaw, WI
-
10
12
06
David Groboski New Richmond, WI
New Richmond, WI
2
11 DNF
6
42
Vanessa Seipel Stockholm, WI
Stockholm, WI
-5
DQ
3
20
Brandon Gleiter Mondovi, WI
Mondovi, WI
-
DQ
8
112
Jason Holte Elk Mound, WI
Elk Mound, WI
-
Finish
Start
#
Competitor
Hometown
+/-
1
3
112
Jason Holte Elk Mound, WI
Elk Mound, WI
2
2
4
15C
Preston Coombs Boyceville, WI
Boyceville, WI
2
3
1
3
Alexander Lessard Hudson, WI
Hudson, WI
-2
4
6
357
Justin King Roberts, WI
Roberts, WI
2
5
2
9SR
Scott Cooper Arkansaw, WI
Arkansaw, WI
-3
6
5
31
Alanna Karis Menomonie, WI
Menomonie, WI
-1
7
7
92
David Tonkin Eau Claire, WI
Eau Claire, WI
-
All transfer
Finish
Start
#
Competitor
Hometown
+/-
1
2
20
Brandon Gleiter Mondovi, WI
Mondovi, WI
1
2
1
9JR
Jeremy Johnson Elmwood, WI
Elmwood, WI
-1
3
4
42
Vanessa Seipel Stockholm, WI
Stockholm, WI
1
4
6
35
Alyssa Nelson Merrifield, MN
Merrifield, MN
2
5
5
357X
Dan Brzozowski Hudson, WI
Hudson, WI
-
6
3
06
David Groboski New Richmond, WI
New Richmond, WI
-3
All transfer
USRA Late Models
Finish
Start
#
Competitor
Hometown
+/-
1
1
11
Lance Hofer Cochrane, WI
Cochrane, WI
-
2
3
17
Matt LaDuke Cochrane, WI
Cochrane, WI
1
3
9
71B
Jesse Glenz Chippewa Falls, WI
Chippewa Falls, WI
6
4
2
9
Dylan Kromschroeder Cambridge, MN
Cambridge, MN
-2
5
8
22
Brett Shafer Menomonie, WI
Menomonie, WI
3
6
21
208
Kory Ressie Alma, WI
Alma, WI
15
7
11
65
Lucas Peterson Grand Meadow, MN
Grand Meadow, MN
4
8
5
54
Chad Prissel Mondovi, WI
Mondovi, WI
-3
9
6
B37
Tim Borgeson New Richmond, WI
New Richmond, WI
-3
10
12
75
Todd Anderson Hudson, WI
Hudson, WI
2
11
4
19
Ashley Wahlstrom Rice Lake, WI
Rice Lake, WI
-7
12
10
63
Patrick Kelley Forest Lake, MN
Forest Lake, MN
-2
13
14
88
Michael Hucovski Corcoran, MN
Corcoran, MN
1
14
20
80
Andy Zimmerman Altoona, WI
Altoona, WI
6
15
16
32
Caylee Kjos Winona, MN
Winona, MN
1
16
13
42K
Patrick Kletschka New Richmond, WI
New Richmond, WI
-3
17
7
007
Jess Seim Glenwood City, WI
Glenwood City, WI
-10
18
17
D1
Dennis Larson Lake Elmo, MN
Lake Elmo, MN
-1
19
19
77
Melvin Raska Osceola, WI
Osceola, WI
-
20 DNF
22
18T
Matt Tody Chippewa Falls, WI
Chippewa Falls, WI
2
DNS
18
99F
Mitchell Fenske New Richmond, WI
New Richmond, WI
-
DNS
15
24
Justin Sass Elgin, MN
Elgin, MN
-
Finish
Start
#
Competitor
Hometown
+/-
1
4
B37
Tim Borgeson New Richmond, WI
New Richmond, WI
3
2
1
007
Jess Seim Glenwood City, WI
Glenwood City, WI
-1
3
3
19
Ashley Wahlstrom Rice Lake, WI
Rice Lake, WI
-
4
6
63
Patrick Kelley Forest Lake, MN
Forest Lake, MN
2
5
7
42K
Patrick Kletschka New Richmond, WI
New Richmond, WI
2
6
5
32
Caylee Kjos Winona, MN
Winona, MN
-1
7
2
77
Melvin Raska Osceola, WI
Osceola, WI
-5
DNS
8
18T
Matt Tody Chippewa Falls, WI
Chippewa Falls, WI
-
All transfer
Finish
Start
#
Competitor
Hometown
+/-
1
5
71B
Jesse Glenz Chippewa Falls, WI
Chippewa Falls, WI
4
2
7
9
Dylan Kromschroeder Cambridge, MN
Cambridge, MN
5
3
4
11
Lance Hofer Cochrane, WI
Cochrane, WI
1
4
1
65
Lucas Peterson Grand Meadow, MN
Grand Meadow, MN
-3
5
3
88
Michael Hucovski Corcoran, MN
Corcoran, MN
-2
6
2
D1
Dennis Larson Lake Elmo, MN
Lake Elmo, MN
-4
7 DNF
6
208
Kory Ressie Alma, WI
Alma, WI
-1
All transfer
Finish
Start
#
Competitor
Hometown
+/-
1
3
22
Brett Shafer Menomonie, WI
Menomonie, WI
2
2
1
17
Matt LaDuke Cochrane, WI
Cochrane, WI
-1
3
4
54
Chad Prissel Mondovi, WI
Mondovi, WI
1
4
7
75
Todd Anderson Hudson, WI
Hudson, WI
3
5
5
24
Justin Sass Elgin, MN
Elgin, MN
-
6
6
99F
Mitchell Fenske New Richmond, WI
New Richmond, WI
-
7
2
80
Andy Zimmerman Altoona, WI
Altoona, WI
-5
All transfer
WISSOTA Midwest Mods
Finish
Start
#
Competitor
Hometown
+/-
1
7
18S
Kennedy Swan Chippewa Falls, WI
Chippewa Falls, WI
6
2
1
21B
Jesse Bryan Boyceville, WI
Boyceville, WI
-1
3
2
13
Nick Koehler Bloomer, WI
Bloomer, WI
-1
4
5
68
Shadow Kitchner Arkansaw, WI
Arkansaw, WI
1
5
8
B37
Cody Borgeson New Richmond, WI
New Richmond, WI
3
6
3
92
Tom Karis Menomonie, WI
Menomonie, WI
-3
7
6
37
Travis Anderson Colfax, WI
Colfax, WI
-1
8
17
63JR
Brady Larson Amery, WI
Amery, WI
9
9
9
R1
Jay Richardson Spring Valley, WI
Spring Valley, WI
-
10
10
6
Steve Haas Elk Mound, WI
Elk Mound, WI
-
11
4
87
William Moelter Elk Mound, WI
Elk Mound, WI
-7
12
11
89
Matt Klukas Colfax, WI
Colfax, WI
-1
13
13
T25
Mark Thomas Menomonie, WI
Menomonie, WI
-
14
14
31
Jason Vokovan Eau Claire, WI
Eau Claire, WI
-
15
12
2B
Ryan Bauer Chippewa Falls, WI
Chippewa Falls, WI
-3
16
16
61
Andrea Keeney Ridgeland, WI
Ridgeland, WI
-
17 DNF
15
8
Dakota Smith Chippewa Falls, WI
Chippewa Falls, WI
-2
Finish
Start
#
Competitor
Hometown
+/-
1
1
13
Nick Koehler Bloomer, WI
Bloomer, WI
-
2
5
21B
Jesse Bryan Boyceville, WI
Boyceville, WI
3
3
7
B37
Cody Borgeson New Richmond, WI
New Richmond, WI
4
4
9
37
Travis Anderson Colfax, WI
Colfax, WI
5
5
3
R1
Jay Richardson Spring Valley, WI
Spring Valley, WI
-2
6
8
89
Matt Klukas Colfax, WI
Colfax, WI
2
7
4
T25
Mark Thomas Menomonie, WI
Menomonie, WI
-3
8
2
8
Dakota Smith Chippewa Falls, WI
Chippewa Falls, WI
-6
9
6
61
Andrea Keeney Ridgeland, WI
Ridgeland, WI
-3
All transfer
Finish
Start
#
Competitor
Hometown
+/-
1
7
18S
Kennedy Swan Chippewa Falls, WI
Chippewa Falls, WI
6
2
4
92
Tom Karis Menomonie, WI
Menomonie, WI
2
3
6
68
Shadow Kitchner Arkansaw, WI
Arkansaw, WI
3
4
2
87
William Moelter Elk Mound, WI
Elk Mound, WI
-2
5
3
6
Steve Haas Elk Mound, WI
Elk Mound, WI
-2
6
5
2B
Ryan Bauer Chippewa Falls, WI
Chippewa Falls, WI
-1
7
8
31
Jason Vokovan Eau Claire, WI
Eau Claire, WI
1
DQ
1
63JR
Brady Larson Amery, WI
Amery, WI
-
All transfer
WISSOTA Super Stock
Finish
Start
#
Competitor
Hometown
+/-
1
2
7A
Shane Sabraski Rice, MN
Rice, MN
1
2
4
207
Jesse Redetzke Eau Claire, WI
Eau Claire, WI
2
3
5
7R
Tommy Richards Mondovi, WI
Mondovi, WI
2
4
14
63
Jake Froemke International Falls, MN
International Falls, MN
10
5
11
25
Dylan Nelson Merrifield, MN
Merrifield, MN
6
6
1
7
Andrew Mackey Duluth, MN
Duluth, MN
-5
7
6
22T
Terran Spacek Phillips, WI
Phillips, WI
-1
8
10
21F
Nick Oreskovich Mason, WI
Mason, WI
2
9
8
78K
Dexton Koch Becker, MN
Becker, MN
-1
10
9
22JR
Ben Hillman Menomonie, WI
Menomonie, WI
-1
11
15
22
Dan Nissalke Winona, MN
Winona, MN
4
12
12
21X
Joel Collins Princeton, MN
Princeton, MN
-
13
7
12K
Duane (D.J.) Keeler Superior, WI
Superior, WI
-6
14
16
80
Steve Stuart Ashland, WI
Ashland, WI
2
15
3
55
Ron Mahder Elk Mound, WI
Elk Mound, WI
-12
16
19
71
Brandon Clemens Bloomington, MN
Bloomington, MN
3
17
22
51JR
Shawn McFadden Ashland, WI
Ashland, WI
5
18
20
46
Dustin Nelson Ogilvie, MN
Ogilvie, MN
2
19
25
33
Austin Niemeyer Brainerd, MN
Brainerd, MN
6
20
21
1E
Eric Olson Ladysmith, WI
Ladysmith, WI
1
21
26
14X
Leslie Leu Medford, WI
Medford, WI
5
22
13
20*
Andrew Davis Rice Lake, WI
Rice Lake, WI
-9
23 DNF
17
77L
Scott Lawrence Superior, WI
Superior, WI
-6
24 DNF
24
8
Matthew Larson Lake Elmo, MN
Lake Elmo, MN
-
25 DNF
18
27
Matt Deragon Ashland, WI
Ashland, WI
-7
26 DNF
23
1776
Wayne Dean Strum, WI
Strum, WI
-3
Finish
Start
#
Competitor
Hometown
+/-
1
4
1E
Eric Olson Ladysmith, WI
Ladysmith, WI
3
2
8
1776
Wayne Dean Strum, WI
Strum, WI
6
Top 2 transfer
3
1
11
Tucker Quinn Ladysmith, WI
Ladysmith, WI
-2
4
11
33
Austin Niemeyer Brainerd, MN
Brainerd, MN
7
5
3
20
Cory Davis Turtle Lake, WI
Turtle Lake, WI
-2
6
2
28B
Stefan Hogue Altoona, WI
Altoona, WI
-4
7
10
20N
Jeremy North Huron, SD
Huron, SD
3
8
6
28
Jason Quarders Prairie Farm, WI
Prairie Farm, WI
-2
9
14
6
Dan Peterson Foxboro, WI
Foxboro, WI
5
10
12
14L
Dylan Leu Medford, WI
Medford, WI
2
11
7
4A
Allan Cleveland Breckenridge, MN
Breckenridge, MN
-4
12 DNF
5
20J
Chris Johnson Superior, WI
Superior, WI
-7
13 DNF
16
15
Jonathan Dachel Elk Mound, WI
Elk Mound, WI
3
14 DNF
9
34
Joe Miller New Richmond, WI
New Richmond, WI
-5
15 DNF
15
10X
Josh Schmidt Becker, MN
Becker, MN
-
DQ
13
21C
Patrick Beeksma Ironwood, MI
Ironwood, MI
-
Finish
Start
#
Competitor
Hometown
+/-
1
2
51JR
Shawn McFadden Ashland, WI
Ashland, WI
1
2
1
8
Matthew Larson Lake Elmo, MN
Lake Elmo, MN
-1
Top 2 transfer
3
8
25X
Chad Johnson Colfax, WI
Colfax, WI
5
4
11
19X
William Fisher Shell Lake, WI
Shell Lake, WI
7
5
13
76
Doug Koski Chisholm, MN
Chisholm, MN
8
6
6
77
Wayne Bignell Elkmound, WI
Elkmound, WI
-
7
3
2F
Jeffrey Frey Ogilvie, MN
Ogilvie, MN
-4
8
9
5
Jase Lien Mora, MN
Mora, MN
1
9
10
2
Don Livingston Washburn, WI
Washburn, WI
1
10 DNF
5
32F
Brian Carl Duluth, MN
Duluth, MN
-5
11 DNF
7
40
Nick Traynor Barron, WI
Barron, WI
-4
12 DNF
12
3
Thomas Karaba Superior, WI
Superior, WI
-
13 DNF
4
14X
Leslie Leu Medford, WI
Medford, WI
-9
14 DNF
14
L1
Andrew Johnson Brainerd, MN
Brainerd, MN
-
DNS
15
5H
Jason Havel Rice Lake, WI
Rice Lake, WI
-
DNS
16
0
Brandon Duellman Winona, MN
Winona, MN
-
Finish
Start
#
Competitor
Hometown
+/-
1
3
7
Andrew Mackey Duluth, MN
Duluth, MN
2
2
5
22T
Terran Spacek Phillips, WI
Phillips, WI
3
3
7
25
Dylan Nelson Merrifield, MN
Merrifield, MN
4
4
8
80
Steve Stuart Ashland, WI
Ashland, WI
4
Top 4 transfer
5
1
11
Tucker Quinn Ladysmith, WI
Ladysmith, WI
-4
6
2
2F
Jeffrey Frey Ogilvie, MN
Ogilvie, MN
-4
7
4
28
Jason Quarders Prairie Farm, WI
Prairie Farm, WI
-3
8
11
25X
Chad Johnson Colfax, WI
Colfax, WI
3
9
6
33
Austin Niemeyer Brainerd, MN
Brainerd, MN
-3
10
10
76
Doug Koski Chisholm, MN
Chisholm, MN
-
11
9
15
Jonathan Dachel Elk Mound, WI
Elk Mound, WI
-2
Finish
Start
#
Competitor
Hometown
+/-
1
7
55
Ron Mahder Elk Mound, WI
Elk Mound, WI
6
2
3
12K
Duane (D.J.) Keeler Superior, WI
Superior, WI
1
3
2
21X
Joel Collins Princeton, MN
Princeton, MN
-1
4
9
77L
Scott Lawrence Superior, WI
Superior, WI
5
Top 4 transfer
5
5
8
Matthew Larson Lake Elmo, MN
Lake Elmo, MN
-
6
8
1E
Eric Olson Ladysmith, WI
Ladysmith, WI
2
7
4
77
Wayne Bignell Elkmound, WI
Elkmound, WI
-3
8
1
34
Joe Miller New Richmond, WI
New Richmond, WI
-7
9
6
19X
William Fisher Shell Lake, WI
Shell Lake, WI
-3
10
11
6
Dan Peterson Foxboro, WI
Foxboro, WI
1
11 DNF
10
0
Brandon Duellman Winona, MN
Winona, MN
-1
Finish
Start
#
Competitor
Hometown
+/-
1
1
207
Jesse Redetzke Eau Claire, WI
Eau Claire, WI
-
2
6
78K
Dexton Koch Becker, MN
Becker, MN
4
3
3
20*
Andrew Davis Rice Lake, WI
Rice Lake, WI
-
4
9
27
Matt Deragon Ashland, WI
Ashland, WI
5
Top 4 transfer
5
10
28B
Stefan Hogue Altoona, WI
Altoona, WI
5
6
5
14X
Leslie Leu Medford, WI
Medford, WI
-1
7
2
4A
Allan Cleveland Breckenridge, MN
Breckenridge, MN
-5
8 DNF
4
5
Jase Lien Mora, MN
Mora, MN
-4
9 DNF
8
14L
Dylan Leu Medford, WI
Medford, WI
-1
10 DNF
7
L1
Andrew Johnson Brainerd, MN
Brainerd, MN
-3
Finish
Start
#
Competitor
Hometown
+/-
1
2
7A
Shane Sabraski Rice, MN
Rice, MN
1
2
6
22JR
Ben Hillman Menomonie, WI
Menomonie, WI
4
3
1
63
Jake Froemke International Falls, MN
International Falls, MN
-2
4
5
71
Brandon Clemens Bloomington, MN
Bloomington, MN
1
Top 4 transfer
5
7
51JR
Shawn McFadden Ashland, WI
Ashland, WI
2
6
4
20J
Chris Johnson Superior, WI
Superior, WI
-2
7
8
40
Nick Traynor Barron, WI
Barron, WI
1
8
9
20N
Jeremy North Huron, SD
Huron, SD
1
9
3
3
Thomas Karaba Superior, WI
Superior, WI
-6
10
10
10X
Josh Schmidt Becker, MN
Becker, MN
-
Finish
Start
#
Competitor
Hometown
+/-
1
1
7R
Tommy Richards Mondovi, WI
Mondovi, WI
-
2
2
21F
Nick Oreskovich Mason, WI
Mason, WI
-
3
9
22
Dan Nissalke Winona, MN
Winona, MN
6
4
3
46
Dustin Nelson Ogilvie, MN
Ogilvie, MN
-1
Top 4 transfer
5
4
20
Cory Davis Turtle Lake, WI
Turtle Lake, WI
-1
6
5
32F
Brian Carl Duluth, MN
Duluth, MN
-1
7
6
1776
Wayne Dean Strum, WI
Strum, WI
-1
8
8
2
Don Livingston Washburn, WI
Washburn, WI
-
9 DNF
7
21C
Patrick Beeksma Ironwood, MI
Ironwood, MI
-2
10 DNF
10
5H
Jason Havel Rice Lake, WI
Rice Lake, WI
-