Driver rules and event information for the July 31st Demo Derby have been posted. Click here or visit the Rules page under Driver Info.

Red Cedar Speedway Donates to Menomonie High Hockey

Red Cedar Speedway's supporter Jeremy Bluem has been recognized as the 2022 Super Fan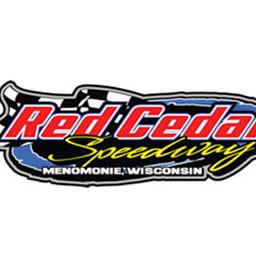 9/20/2018 - Red Cedar Speedway
Menomonie, WI
Punky Manor Challenge Of Champions Night #1 Presented By Bill's Distributing & Tim's Automotive
Also Limited Late Models & Xcel Mini Mods. If were to rain out Thursday night wouldn't be rescheduled.
Dirt Super Late Models
Hornets
WISSOTA Street Stock
WISSOTA Pure Stock