Driver rules and event information for the July 31st Demo Derby have been posted. Click here or visit the Rules page under Driver Info.

Red Cedar Speedway Donates to Menomonie High Hockey

Red Cedar Speedway's supporter Jeremy Bluem has been recognized as the 2022 Super Fan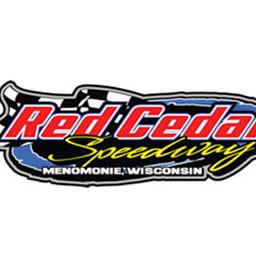 8/16/2018 - Red Cedar Speedway
Menomonie, WI
Special Thursday Night Races! Presented By: Midwest Family Broadcast-Bus night from Westside Bar
Late Models, Modifieds, Super Stocks, MWM, Limited Late Models also! Bus Night from Westside Bar in Eau Claire provided by Right Way Shuttle.
Dirt Super Late Models

10 entries

WISSOTA Midwest Mods

17 entries
Full Event Information on MyRacePass
Dirt Super Late Models
Finish
Start
#
Competitor
Hometown
+/-
1
3
11H
Lance Hofer Cochrane, WI
Cochrane, WI
2
2
2
11X
Derek Nelson Buffalo City, WI
Buffalo City, WI
-
3
4
0
zzzKyle zzzjohnson Hixton, WI
Hixton, WI
1
4
5
33X
Dan Gullikson Roberts, WI
Roberts, WI
1
5 DNF
1
98
Matt McEathron Wausau, WI
Wausau, WI
-4
All transfer
Finish
Start
#
Competitor
Hometown
+/-
1
1
71B
Barry Johnson Nelson, WI
Nelson, WI
-
2
3
28
Sam Mars Menomonie, WI
Menomonie, WI
1
3
4
73
Larry Fitzsimmons East Bethel, MN
East Bethel, MN
1
4
2
33
Derek Sutton Fountain City, WI
Fountain City, WI
-2
5
5
8
Cale Slawson Pine Island, MN
Pine Island, MN
-
All transfer
WISSOTA Midwest Mods
Finish
Start
#
Competitor
Hometown
+/-
1
4
37
Travis Anderson Colfax, WI
Colfax, WI
3
2
8
3JR
Shane Halopka Greenwood, WI
Greenwood, WI
6
3
9
2
Gunnar Watkins Elk Mound, WI
Elk Mound, WI
6
4
2
15
Karl Kolek Menomonie, WI
Menomonie, WI
-2
5
6
27X
Calvin Iverson Eleva, WI
Eleva, WI
1
6
5
7R
Tommy Richards Mondovi, WI
Mondovi, WI
-1
7
13
89
Matt Klukas Colfax, WI
Colfax, WI
6
8
12
34JR
Dan Larson Jr Eau Claire, WI
Eau Claire, WI
4
9
14
343
J.D. Ford Somerset, WI
Somerset, WI
5
10
1
6D
Derek Haas Thorp, WI
Thorp, WI
-9
11
15
68L
Nick Lindquist Prescott, WI
Prescott, WI
4
12
16
78
Nate Erickson New Richmond, WI
New Richmond, WI
4
DNS
3
21B
Jesse Bryan Boyceville, WI
Boyceville, WI
-
DNS
7
13
Nick Koehler Bloomer, WI
Bloomer, WI
-
DNS
10
68
Shadow Kitchner Arkansaw, WI
Arkansaw, WI
-
DNS
11
21J
Josh Smith Eau Claire, WI
Eau Claire, WI
-
DNS
17
63JR
Brady Larson Amery, WI
Amery, WI
-
Finish
Start
#
Competitor
Hometown
+/-
1
1
3JR
Shane Halopka Greenwood, WI
Greenwood, WI
-
2
7
37
Travis Anderson Colfax, WI
Colfax, WI
5
3
2
6D
Derek Haas Thorp, WI
Thorp, WI
-1
4
4
7R
Tommy Richards Mondovi, WI
Mondovi, WI
-
5
8
2
Gunnar Watkins Elk Mound, WI
Elk Mound, WI
3
6
5
21J
Josh Smith Eau Claire, WI
Eau Claire, WI
-1
7
6
89
Matt Klukas Colfax, WI
Colfax, WI
-1
8
9
68L
Nick Lindquist Prescott, WI
Prescott, WI
1
9
3
78
Nate Erickson New Richmond, WI
New Richmond, WI
-6
All transfer
Finish
Start
#
Competitor
Hometown
+/-
1
4
27X
Calvin Iverson Eleva, WI
Eleva, WI
3
2
1
15
Karl Kolek Menomonie, WI
Menomonie, WI
-1
3
7
13
Nick Koehler Bloomer, WI
Bloomer, WI
4
4
5
21B
Jesse Bryan Boyceville, WI
Boyceville, WI
1
5
8
68
Shadow Kitchner Arkansaw, WI
Arkansaw, WI
3
6
2
34JR
Dan Larson Jr Eau Claire, WI
Eau Claire, WI
-4
7
6
343
J.D. Ford Somerset, WI
Somerset, WI
-1
8 DNF
3
63JR
Brady Larson Amery, WI
Amery, WI
-5
All transfer