Driver rules and event information for the July 31st Demo Derby have been posted. Click here or visit the Rules page under Driver Info.

Red Cedar Speedway Donates to Menomonie High Hockey

Red Cedar Speedway's supporter Jeremy Bluem has been recognized as the 2022 Super Fan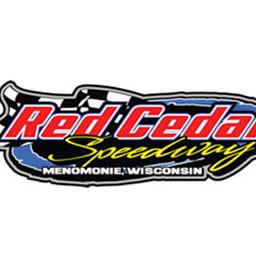 7/20/2018 - Red Cedar Speedway
Menomonie, WI
Advantage Rv Mod Series Special w Kids Club Presented By: Dean & Sues Bar Grill & Design Built Struc
Advantage RV Mod Series Special with Kid's Club. Modifieds, Supers, MWM, Hornets.
Hornets

18 entries

WISSOTA Modifieds

29 entries

WISSOTA Super Stock

17 entries

WISSOTA Midwest Mods

16 entries
Full Event Information on MyRacePass
Hornets
Finish
Start
#
Competitor
Hometown
+/-
1
8
917
Jeremy Johnson Elmwood, WI
Elmwood, WI
7
2
2
14B
Lucas Brackin Wheeler, WI
Wheeler, WI
-
3
7
33
Derek Krumrie Eau Claire, WI
Eau Claire, WI
4
4
4
17
Bradley York Colfax, WI
Colfax, WI
-
5
6
34
zzzJordan zzzLanger Menomonie, WI
Menomonie, WI
1
6
3
29
Armond Love Eau Claire, WI
Eau Claire, WI
-3
7
14
1H
Ross Hoffman Boyceville, WI
Boyceville, WI
7
8
11
97
Alex Rosensteel Mondovi, WI
Mondovi, WI
3
9
10
18B
Dean Butler Wheeler, WI
Wheeler, WI
1
10
9
14
Kaden Baldwin Deer Park, WI
Deer Park, WI
-1
11
16
01
Johnny Dinsmore Downing, WI
Downing, WI
5
12
17
16
Jake Bettendorf River Falls, WI
River Falls, WI
5
13
15
7W
John Wilson Menomonie, WI
Menomonie, WI
2
14 DNF
1
33K
Rick Krumrie Elk Mound, WI
Elk Mound, WI
-13
15 DNF
5
59H
Jason Helgeson Strum, WI
Strum, WI
-10
16 DNF
13
06
David Groboski New Richmond, WI
New Richmond, WI
-3
17 DNF
12
F7
Robert Fawcett Boyceville, WI
Boyceville, WI
-5
18 DNF
18
25R
Trevor Reding Chisago City, MN
Chisago City, MN
-
Finish
Start
#
Competitor
Hometown
+/-
1
4
29
Armond Love Eau Claire, WI
Eau Claire, WI
3
2
8
33
Derek Krumrie Eau Claire, WI
Eau Claire, WI
6
3
3
33K
Rick Krumrie Elk Mound, WI
Elk Mound, WI
-
4
9
17
Bradley York Colfax, WI
Colfax, WI
5
5
1
14
Kaden Baldwin Deer Park, WI
Deer Park, WI
-4
6
6
97
Alex Rosensteel Mondovi, WI
Mondovi, WI
-
7
2
06
David Groboski New Richmond, WI
New Richmond, WI
-5
8 DNF
7
01
Johnny Dinsmore Downing, WI
Downing, WI
-1
9 DNF
5
16
Jake Bettendorf River Falls, WI
River Falls, WI
-4
All transfer
Finish
Start
#
Competitor
Hometown
+/-
1
4
14B
Lucas Brackin Wheeler, WI
Wheeler, WI
3
2
2
917
Jeremy Johnson Elmwood, WI
Elmwood, WI
-
3
1
34
zzzJordan zzzLanger Menomonie, WI
Menomonie, WI
-2
4
5
59H
Jason Helgeson Strum, WI
Strum, WI
1
5
7
18B
Dean Butler Wheeler, WI
Wheeler, WI
2
6
3
F7
Robert Fawcett Boyceville, WI
Boyceville, WI
-3
7
8
1H
Ross Hoffman Boyceville, WI
Boyceville, WI
1
8
6
7W
John Wilson Menomonie, WI
Menomonie, WI
-2
9 DNF
9
25R
Trevor Reding Chisago City, MN
Chisago City, MN
-
All transfer
WISSOTA Modifieds
Finish
Start
#
Competitor
Hometown
+/-
1
6
60
Dan Ebert Lake Shore, MN
Lake Shore, MN
5
2
2
57
Mike Anderson Jim Falls, WI
Jim Falls, WI
-
3
12
2C
Dave Cain Corcoran, MN
Corcoran, MN
9
4
8
7A
Shane Sabraski Rice, MN
Rice, MN
4
5
4
4
Jeremy Nelson Alexandria, MN
Alexandria, MN
-1
6
13
05
Jake Hartung Elmwood, WI
Elmwood, WI
7
7
16
81
Ashley Anderson Elk Mound, WI
Elk Mound, WI
9
8
14
35
Grant Southworth Bloomer, WI
Bloomer, WI
6
9
9
44
Adam Hensel Baldwin, WI
Baldwin, WI
-
10
11
18
Mark Hanson Chippewa Falls, WI
Chippewa Falls, WI
1
11
1
21B
Brandon Jensen Ellsworth, WI
Ellsworth, WI
-10
12
15
14W
Clayton Wagamon Blaine, MN
Blaine, MN
3
13
17
24S
Mike Stearns Aberdeen, SD
Aberdeen, SD
4
14
19
73
Andy Jones Princeton, MN
Princeton, MN
5
15 DNF
3
55
Cory Mahder Elk Mound, WI
Elk Mound, WI
-12
16 DNF
5
93
Mike Knopps Chippewa Falls, WI
Chippewa Falls, WI
-11
17 DNF
20
R1
Greg Nippoldt Roberts, WI
Roberts, WI
3
18 DNF
21
1L
Donnie Lofdahl Duluth, MN
Duluth, MN
3
19 DNF
7
40
Kevin Adams Cameron, WI
Cameron, WI
-12
20 DNF
10
R2
Jason Richardson Rochester, WI
Rochester, WI
-10
21 DNF
18
27H
Steve Hallquist Fall Creek, WI
Fall Creek, WI
-3
Finish
Start
#
Competitor
Hometown
+/-
1
3
05
Jake Hartung Elmwood, WI
Elmwood, WI
2
2
5
14W
Clayton Wagamon Blaine, MN
Blaine, MN
3
3
2
24S
Mike Stearns Aberdeen, SD
Aberdeen, SD
-1
4
1
73
Andy Jones Princeton, MN
Princeton, MN
-3
Top 4 transfer
5
6
78
Brent Prochnow Colfax, WI
Colfax, WI
1
6
9
9
Josh Hessler Boyceville, WI
Boyceville, WI
3
7
8
23
Kerry Halopka Wheeler, WI
Wheeler, WI
1
8 DNF
7
46H
Ken Hron Grand Rapids, MN
Grand Rapids, MN
-1
9 DNF
4
22E
Kevin Eder Ashland, WI
Ashland, WI
-5
Finish
Start
#
Competitor
Hometown
+/-
1
2
35
Grant Southworth Bloomer, WI
Bloomer, WI
1
2
4
81
Ashley Anderson Elk Mound, WI
Elk Mound, WI
2
3
7
27H
Steve Hallquist Fall Creek, WI
Fall Creek, WI
4
4
6
R1
Greg Nippoldt Roberts, WI
Roberts, WI
2
Top 4 transfer
5
3
W
Cory Williams Spring Valley, WI
Spring Valley, WI
-2
6
8
1L
Donnie Lofdahl Duluth, MN
Duluth, MN
2
7
5
11
Sam Fankhauser Rice Lake, WI
Rice Lake, WI
-2
8 DNF
1
48
Jerome Guyot Fannystelle, MB
Fannystelle, MB
-7
Finish
Start
#
Competitor
Hometown
+/-
1
1
93
Mike Knopps Chippewa Falls, WI
Chippewa Falls, WI
-
2
6
7A
Shane Sabraski Rice, MN
Rice, MN
4
3
2
44
Adam Hensel Baldwin, WI
Baldwin, WI
-1
4
5
73
Andy Jones Princeton, MN
Princeton, MN
1
5
8
05
Jake Hartung Elmwood, WI
Elmwood, WI
3
6
7
14W
Clayton Wagamon Blaine, MN
Blaine, MN
1
7
4
46H
Ken Hron Grand Rapids, MN
Grand Rapids, MN
-3
8
3
9
Josh Hessler Boyceville, WI
Boyceville, WI
-5
Finish
Start
#
Competitor
Hometown
+/-
1
2
21B
Brandon Jensen Ellsworth, WI
Ellsworth, WI
1
2
4
60
Dan Ebert Lake Shore, MN
Lake Shore, MN
2
3
1
R2
Jason Richardson Rochester, WI
Rochester, WI
-2
4
3
48
Jerome Guyot Fannystelle, MB
Fannystelle, MB
-1
5
7
W
Cory Williams Spring Valley, WI
Spring Valley, WI
2
6
5
11
Sam Fankhauser Rice Lake, WI
Rice Lake, WI
-1
7 DNF
6
27H
Steve Hallquist Fall Creek, WI
Fall Creek, WI
-1
Finish
Start
#
Competitor
Hometown
+/-
1
1
40
Kevin Adams Cameron, WI
Cameron, WI
-
2
3
57
Mike Anderson Jim Falls, WI
Jim Falls, WI
1
3
5
18
Mark Hanson Chippewa Falls, WI
Chippewa Falls, WI
2
4
4
24S
Mike Stearns Aberdeen, SD
Aberdeen, SD
-
5
7
22E
Kevin Eder Ashland, WI
Ashland, WI
2
6
2
78
Brent Prochnow Colfax, WI
Colfax, WI
-4
7
6
23
Kerry Halopka Wheeler, WI
Wheeler, WI
-1
Finish
Start
#
Competitor
Hometown
+/-
1
5
4
Jeremy Nelson Alexandria, MN
Alexandria, MN
4
2
1
55
Cory Mahder Elk Mound, WI
Elk Mound, WI
-1
3
7
2C
Dave Cain Corcoran, MN
Corcoran, MN
4
4
2
35
Grant Southworth Bloomer, WI
Bloomer, WI
-2
5
3
81
Ashley Anderson Elk Mound, WI
Elk Mound, WI
-2
6
6
R1
Greg Nippoldt Roberts, WI
Roberts, WI
-
7
4
1L
Donnie Lofdahl Duluth, MN
Duluth, MN
-3
WISSOTA Super Stock
Finish
Start
#
Competitor
Hometown
+/-
1
6
207
Jesse Redetzke Eau Claire, WI
Eau Claire, WI
5
2
8
7R
Tommy Richards Mondovi, WI
Mondovi, WI
6
3
4
31X
Dan Gullikson Roberts, WI
Roberts, WI
1
4
9
9
Adam Soltis Ladysmith, WI
Ladysmith, WI
5
5
3
2
Bart Steffen Eau Claire, WI
Eau Claire, WI
-2
6
7
7A
Shane Sabraski Rice, MN
Rice, MN
1
7
5
22JR
Ben Hillman Menomonie, WI
Menomonie, WI
-2
8
14
56
Chad Gullixson Hammond, WI
Hammond, WI
6
9
10
1
Matt Koski New Richmond, WI
New Richmond, WI
1
10
11
8
Jim Harris Colfax, WI
Colfax, WI
1
11
16
96
Luke Schultz Cameron, WI
Cameron, WI
5
12
13
89
Tyler Lamm Elk Mound, WI
Elk Mound, WI
1
13
12
XJR
Austin Workman Chetek, WI
Chetek, WI
-1
14 DNF
1
26
Rick Hallquist Eau Claire, WI
Eau Claire, WI
-13
15 DNF
2
9ER
Troy Fransway Eau Claire, WI
Eau Claire, WI
-13
16 DNF
17
F27
Tony Falkner Menomonie, WI
Menomonie, WI
1
17 DNF
15
17
Wayne Dean Strum, WI
Strum, WI
-2
Finish
Start
#
Competitor
Hometown
+/-
1
3
7R
Tommy Richards Mondovi, WI
Mondovi, WI
2
2
1
31X
Dan Gullikson Roberts, WI
Roberts, WI
-1
3
2
22JR
Ben Hillman Menomonie, WI
Menomonie, WI
-1
4
7
207
Jesse Redetzke Eau Claire, WI
Eau Claire, WI
3
5
9
9
Adam Soltis Ladysmith, WI
Ladysmith, WI
4
6
5
8
Jim Harris Colfax, WI
Colfax, WI
-1
7
8
XJR
Austin Workman Chetek, WI
Chetek, WI
1
8
6
89
Tyler Lamm Elk Mound, WI
Elk Mound, WI
-2
9 DNF
4
F27
Tony Falkner Menomonie, WI
Menomonie, WI
-5
All transfer
Finish
Start
#
Competitor
Hometown
+/-
1
1
2
Bart Steffen Eau Claire, WI
Eau Claire, WI
-
2
3
7A
Shane Sabraski Rice, MN
Rice, MN
1
3
8
26
Rick Hallquist Eau Claire, WI
Eau Claire, WI
5
4
2
9ER
Troy Fransway Eau Claire, WI
Eau Claire, WI
-2
5
7
1
Matt Koski New Richmond, WI
New Richmond, WI
2
6 DNF
6
56
Chad Gullixson Hammond, WI
Hammond, WI
-
7 DNF
4
17
Wayne Dean Strum, WI
Strum, WI
-3
8 DNF
5
96
Luke Schultz Cameron, WI
Cameron, WI
-3
All transfer
WISSOTA Midwest Mods
Finish
Start
#
Competitor
Hometown
+/-
1
1
3JR
Shane Halopka Greenwood, WI
Greenwood, WI
-
2
8
7R
Tommy Richards Mondovi, WI
Mondovi, WI
6
3
9
13
Nick Koehler Bloomer, WI
Bloomer, WI
6
4
6
27X
Calvin Iverson Eleva, WI
Eleva, WI
2
5
7
20
Austin Ellis Rice Lake, WI
Rice Lake, WI
2
6
3
37
Travis Anderson Colfax, WI
Colfax, WI
-3
7
2
68
Shadow Kitchner Arkansaw, WI
Arkansaw, WI
-5
8
5
21B
Jesse Bryan Boyceville, WI
Boyceville, WI
-3
9
15
15
Karl Kolek Menomonie, WI
Menomonie, WI
6
10
12
19P
Antonio Pintaro Osseo, WI
Osseo, WI
2
11
4
2
Gunnar Watkins Elk Mound, WI
Elk Mound, WI
-7
12
10
89
Matt Klukas Colfax, WI
Colfax, WI
-2
13
16
T25
Mark Thomas Menomonie, WI
Menomonie, WI
3
14
13
343
J.D. Ford Somerset, WI
Somerset, WI
-1
15 DNF
14
R1
Jay Richardson Spring Valley, WI
Spring Valley, WI
-1
16 DNF
11
19
Josh Wahlstrom Rice Lake, WI
Rice Lake, WI
-5
Finish
Start
#
Competitor
Hometown
+/-
1
3
2
Gunnar Watkins Elk Mound, WI
Elk Mound, WI
2
2
2
21B
Jesse Bryan Boyceville, WI
Boyceville, WI
-
3
6
37
Travis Anderson Colfax, WI
Colfax, WI
3
4
4
27X
Calvin Iverson Eleva, WI
Eleva, WI
-
5
7
13
Nick Koehler Bloomer, WI
Bloomer, WI
2
6
1
19
Josh Wahlstrom Rice Lake, WI
Rice Lake, WI
-5
7
5
343
J.D. Ford Somerset, WI
Somerset, WI
-2
8
8
15
Karl Kolek Menomonie, WI
Menomonie, WI
-
All transfer
Finish
Start
#
Competitor
Hometown
+/-
1
2
3JR
Shane Halopka Greenwood, WI
Greenwood, WI
1
2
4
7R
Tommy Richards Mondovi, WI
Mondovi, WI
2
3
1
68
Shadow Kitchner Arkansaw, WI
Arkansaw, WI
-2
4
3
20
Austin Ellis Rice Lake, WI
Rice Lake, WI
-1
5
5
89
Matt Klukas Colfax, WI
Colfax, WI
-
6
7
19P
Antonio Pintaro Osseo, WI
Osseo, WI
1
7
8
R1
Jay Richardson Spring Valley, WI
Spring Valley, WI
1
8 DNF
6
T25
Mark Thomas Menomonie, WI
Menomonie, WI
-2
All transfer