Driver rules and event information for the July 31st Demo Derby have been posted. Click here or visit the Rules page under Driver Info.

Red Cedar Speedway Donates to Menomonie High Hockey

Red Cedar Speedway's supporter Jeremy Bluem has been recognized as the 2022 Super Fan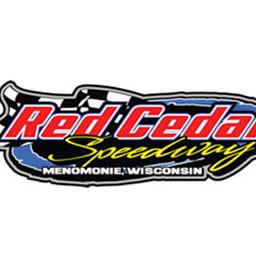 5/18/2018 - Red Cedar Speedway
Menomonie, WI
Regular Race-Plus Kid's Club Presented By: Thunderhill Speedway, Trail Dodge, Tri-Mart
Changed hot lap time for this week to make sure there's enough time for everyone. 6pm Hot Laps and &pm races start!!!. Bus shuttle night from Westside Bar & Grill in Eau Claire-transportation provided by Right-Way Shutttle.
Hornets

18 entries

WISSOTA Modifieds

18 entries

WISSOTA Super Stock

20 entries

WISSOTA Street Stock

9 entries

WISSOTA Midwest Mods

28 entries

WISSOTA Pure Stock

9 entries
Full Event Information on MyRacePass
Hornets
Finish
Start
#
Competitor
Hometown
+/-
1
8
917
Jeremy Johnson Elmwood, WI
Elmwood, WI
7
2
5
34
zzzJordan zzzLanger Menomonie, WI
Menomonie, WI
3
3
1
18B
Dean Butler Wheeler, WI
Wheeler, WI
-2
4
4
K9
Sean Svee Menomonie, WI
Menomonie, WI
-
5
2
14B
Lucas Brackin Wheeler, WI
Wheeler, WI
-3
6
10
33
Derek Krumrie Eau Claire, WI
Eau Claire, WI
4
7
9
14
Jason Bauer Durand, WI
Durand, WI
2
8
13
97
Alex Rosensteel Mondovi, WI
Mondovi, WI
5
9
11
06
David Groboski New Richmond, WI
New Richmond, WI
2
10
12
33K
Rick Krumrie Elk Mound, WI
Elk Mound, WI
2
11
14
14X
Kaden Baldwin Deer Park, WI
Deer Park, WI
3
12 DNF
15
16
Jake Bettendorf River Falls, WI
River Falls, WI
3
13 DNF
7
17
Bradley York Colfax, WI
Colfax, WI
-6
14 DNF
16
49
Derrick Reed Emerald, WI
Emerald, WI
2
15 DNF
3
7W
John Wilson Menomonie, WI
Menomonie, WI
-12
16 DNF
6
F7
Robert Fawcett Boyceville, WI
Boyceville, WI
-10
DNS
17
103.7
Dave Clausen Mondovi, WI
Mondovi, WI
-
DNS
18
1H
Ross Hoffman Boyceville, WI
Boyceville, WI
-
Finish
Start
#
Competitor
Hometown
+/-
1
4
917
Jeremy Johnson Elmwood, WI
Elmwood, WI
3
2
1
K9
Sean Svee Menomonie, WI
Menomonie, WI
-1
3
2
F7
Robert Fawcett Boyceville, WI
Boyceville, WI
-1
4
3
7W
John Wilson Menomonie, WI
Menomonie, WI
-1
5
8
14
Jason Bauer Durand, WI
Durand, WI
3
6
9
06
David Groboski New Richmond, WI
New Richmond, WI
3
7 DNF
7
16
Jake Bettendorf River Falls, WI
River Falls, WI
-
8 DNF
5
49
Derrick Reed Emerald, WI
Emerald, WI
-3
9 DNF
6
103.7
Dave Clausen Mondovi, WI
Mondovi, WI
-3
All transfer
Finish
Start
#
Competitor
Hometown
+/-
1
1
14B
Lucas Brackin Wheeler, WI
Wheeler, WI
-
2
5
34
zzzJordan zzzLanger Menomonie, WI
Menomonie, WI
3
3
7
18B
Dean Butler Wheeler, WI
Wheeler, WI
4
4
8
17
Bradley York Colfax, WI
Colfax, WI
4
5
9
33
Derek Krumrie Eau Claire, WI
Eau Claire, WI
4
6
4
33K
Rick Krumrie Elk Mound, WI
Elk Mound, WI
-2
7
6
97
Alex Rosensteel Mondovi, WI
Mondovi, WI
-1
8
3
14X
Kaden Baldwin Deer Park, WI
Deer Park, WI
-5
9 DNF
2
1H
Ross Hoffman Boyceville, WI
Boyceville, WI
-7
All transfer
WISSOTA Modifieds
Finish
Start
#
Competitor
Hometown
+/-
1
2
40
Kevin Adams Cameron, WI
Cameron, WI
1
2
3
81
Ashley Anderson Elk Mound, WI
Elk Mound, WI
1
3
5
4
Jeremy Nelson Alexandria, MN
Alexandria, MN
2
4
4
21B
Brandon Jensen Ellsworth, WI
Ellsworth, WI
-
5
10
14W
Clayton Wagamon Blaine, MN
Blaine, MN
5
6
9
8S
Tony Schill Oakdale, MN
Oakdale, MN
3
7
6
35
Grant Southworth Bloomer, WI
Bloomer, WI
-1
8
18
57
Mike Anderson Jim Falls, WI
Jim Falls, WI
10
9
11
23
Kerry Halopka Wheeler, WI
Wheeler, WI
2
10
13
R1
Greg Nippoldt Roberts, WI
Roberts, WI
3
11
16
R2
Jason Richardson Rochester, WI
Rochester, WI
5
12
1
W
Cory Williams Spring Valley, WI
Spring Valley, WI
-11
13
8
93
Mike Knopps Chippewa Falls, WI
Chippewa Falls, WI
-5
14
15
9
Josh Hessler Boyceville, WI
Boyceville, WI
1
15
14
3
Bryan Hessler Chetek, WI
Chetek, WI
-1
16
17
33
Cooper Berlin Rice Lake, WI
Rice Lake, WI
1
17 DNF
12
03
Jordan Hessler Menomonie, WI
Menomonie, WI
-5
18 DNF
7
27H
Steve Hallquist Fall Creek, WI
Fall Creek, WI
-11
Finish
Start
#
Competitor
Hometown
+/-
1
3
40
Kevin Adams Cameron, WI
Cameron, WI
2
2
5
27H
Steve Hallquist Fall Creek, WI
Fall Creek, WI
3
3
9
35
Grant Southworth Bloomer, WI
Bloomer, WI
6
4
4
93
Mike Knopps Chippewa Falls, WI
Chippewa Falls, WI
-
5
2
8S
Tony Schill Oakdale, MN
Oakdale, MN
-3
6
6
23
Kerry Halopka Wheeler, WI
Wheeler, WI
-
7
7
R1
Greg Nippoldt Roberts, WI
Roberts, WI
-
8
1
9
Josh Hessler Boyceville, WI
Boyceville, WI
-7
DNS
8
57
Mike Anderson Jim Falls, WI
Jim Falls, WI
-
All transfer
Finish
Start
#
Competitor
Hometown
+/-
1
1
81
Ashley Anderson Elk Mound, WI
Elk Mound, WI
-
2
2
4
Jeremy Nelson Alexandria, MN
Alexandria, MN
-
3
5
W
Cory Williams Spring Valley, WI
Spring Valley, WI
2
4
4
21B
Brandon Jensen Ellsworth, WI
Ellsworth, WI
-
5
8
14W
Clayton Wagamon Blaine, MN
Blaine, MN
3
6
7
03
Jordan Hessler Menomonie, WI
Menomonie, WI
1
7
9
3
Bryan Hessler Chetek, WI
Chetek, WI
2
8
6
R2
Jason Richardson Rochester, WI
Rochester, WI
-2
9
3
33
Cooper Berlin Rice Lake, WI
Rice Lake, WI
-6
All transfer
WISSOTA Super Stock
Finish
Start
#
Competitor
Hometown
+/-
1
9
7R
Tommy Richards Mondovi, WI
Mondovi, WI
8
2
6
31X
Dan Gullikson Roberts, WI
Roberts, WI
4
3
4
2
Bart Steffen Eau Claire, WI
Eau Claire, WI
1
4
7
22JR
Ben Hillman Menomonie, WI
Menomonie, WI
3
5
2
56
Chad Gullixson Hammond, WI
Hammond, WI
-3
6
14
T17
Steve Thomas Menomonie, WI
Menomonie, WI
8
7
8
207
Jesse Redetzke Eau Claire, WI
Eau Claire, WI
1
8
11
22
Dan Nissalke Winona, MN
Winona, MN
3
9
12
9
Adam Soltis Ladysmith, WI
Ladysmith, WI
3
10
13
94
Kevin Hager Kellogg, MN
Kellogg, MN
3
11
16
17D
Wayne Dean Strum, WI
Strum, WI
5
12
15
1
Matt Koski New Richmond, WI
New Richmond, WI
3
13
18
3Z
Eric Zitelman Taylors Falls, WI
Taylors Falls, WI
5
14 DNF
17
17
Ryan Kostreba Elk River, MN
Elk River, MN
3
15 DNF
10
96
Luke Schultz Cameron, WI
Cameron, WI
-5
16 DNF
5
34
Jeff Brauer Eyota, MN
Eyota, MN
-11
17 DNF
1
26
Rick Hallquist Eau Claire, WI
Eau Claire, WI
-16
18 DNF
3
27
Tony Falkner Menomonie, WI
Menomonie, WI
-15
19 DNF
20
84
Hunter VanGilder Rice Lake, WI
Rice Lake, WI
1
DNS
19
88
Josh Craighton Plum City, WI
Plum City, WI
-
Finish
Start
#
Competitor
Hometown
+/-
1
2
7R
Tommy Richards Mondovi, WI
Mondovi, WI
1
2
4
56
Chad Gullixson Hammond, WI
Hammond, WI
2
3
6
27
Tony Falkner Menomonie, WI
Menomonie, WI
3
4
3
96
Luke Schultz Cameron, WI
Cameron, WI
-1
5
7
94
Kevin Hager Kellogg, MN
Kellogg, MN
2
6 DNF
5
17
Ryan Kostreba Elk River, MN
Elk River, MN
-1
DNS
1
84
Hunter VanGilder Rice Lake, WI
Rice Lake, WI
-
All transfer
Finish
Start
#
Competitor
Hometown
+/-
1
2
22JR
Ben Hillman Menomonie, WI
Menomonie, WI
1
2
1
31X
Dan Gullikson Roberts, WI
Roberts, WI
-1
3
3
26
Rick Hallquist Eau Claire, WI
Eau Claire, WI
-
4
5
22
Dan Nissalke Winona, MN
Winona, MN
1
5
4
T17
Steve Thomas Menomonie, WI
Menomonie, WI
-1
6
6
17D
Wayne Dean Strum, WI
Strum, WI
-
7 DNF
7
88
Josh Craighton Plum City, WI
Plum City, WI
-
All transfer
Finish
Start
#
Competitor
Hometown
+/-
1
4
207
Jesse Redetzke Eau Claire, WI
Eau Claire, WI
3
2
6
34
Jeff Brauer Eyota, MN
Eyota, MN
4
3
5
2
Bart Steffen Eau Claire, WI
Eau Claire, WI
2
4
3
9
Adam Soltis Ladysmith, WI
Ladysmith, WI
-1
5
1
1
Matt Koski New Richmond, WI
New Richmond, WI
-4
6 DNF
2
3Z
Eric Zitelman Taylors Falls, WI
Taylors Falls, WI
-4
All transfer
WISSOTA Street Stock
Finish
Start
#
Competitor
Hometown
+/-
1
3
3R
Danny Richards Mondovi, WI
Mondovi, WI
2
2
2
42K
Mike Knudtson Osseo, WI
Osseo, WI
-
3
8
34JR
Braden Brauer Eyota, MN
Eyota, MN
5
4
6
9K
Kolby Kiehl Barron, WI
Barron, WI
2
5
7
71H
Ron Hanestad Glenwood City, WI
Glenwood City, WI
2
6
4
14
Russell Kostreba Zimmerman, MN
Zimmerman, MN
-2
7
9
5
Bob Seidler Chippewa Falls, WI
Chippewa Falls, WI
2
8 DNF
5
84
Hunter VanGilder Rice Lake, WI
Rice Lake, WI
-3
9 DNF
1
19
Ashley Wahlstrom Rice Lake, WI
Rice Lake, WI
-8
Finish
Start
#
Competitor
Hometown
+/-
1
1
42K
Mike Knudtson Osseo, WI
Osseo, WI
-
2
4
3R
Danny Richards Mondovi, WI
Mondovi, WI
2
3
3
14
Russell Kostreba Zimmerman, MN
Zimmerman, MN
-
4
2
19
Ashley Wahlstrom Rice Lake, WI
Rice Lake, WI
-2
5
5
84
Hunter VanGilder Rice Lake, WI
Rice Lake, WI
-
6
7
9K
Kolby Kiehl Barron, WI
Barron, WI
1
7
6
71H
Ron Hanestad Glenwood City, WI
Glenwood City, WI
-1
8
8
34JR
Braden Brauer Eyota, MN
Eyota, MN
-
9
9
5
Bob Seidler Chippewa Falls, WI
Chippewa Falls, WI
-
All transfer
WISSOTA Midwest Mods
Finish
Start
#
Competitor
Hometown
+/-
1
3
3JR
Shane Halopka Greenwood, WI
Greenwood, WI
2
2
8
23D
Kevin Adams Cameron, WI
Cameron, WI
6
3
7
7R
Tommy Richards Mondovi, WI
Mondovi, WI
4
4
5
13
Nick Koehler Bloomer, WI
Bloomer, WI
1
5
1
19
Josh Wahlstrom Rice Lake, WI
Rice Lake, WI
-4
6
11
2
Gunnar Watkins Elk Mound, WI
Elk Mound, WI
5
7
4
37
Travis Anderson Colfax, WI
Colfax, WI
-3
8
6
21
Jake Smith Fall Creek, WI
Fall Creek, WI
-2
9
12
27X
Calvin Iverson Eleva, WI
Eleva, WI
3
10
14
L1
Shane Howell Buffalo, MN
Buffalo, MN
4
11
19
68
Shadow Kitchner Arkansaw, WI
Arkansaw, WI
8
12
2
34JR
Dan Larson Jr Eau Claire, WI
Eau Claire, WI
-10
13
18
70JR
David Simpson Thunder Bay, ON
Thunder Bay, ON
5
14
9
89
Matt Klukas Colfax, WI
Colfax, WI
-5
15 DNF
20
B37
Cody Borgeson New Richmond, WI
New Richmond, WI
5
16 DNF
17
15
Karl Kolek Menomonie, WI
Menomonie, WI
1
17 DNF
10
17B
Zach Benson Princeton, MN
Princeton, MN
-7
18 DNF
13
343
J.D. Ford Somerset, WI
Somerset, WI
-5
19 DNF
15
31
Jason Vokovan Eau Claire, WI
Eau Claire, WI
-4
DNS
16
21B
Jesse Bryan Boyceville, WI
Boyceville, WI
-
Finish
Start
#
Competitor
Hometown
+/-
1
2
15
Karl Kolek Menomonie, WI
Menomonie, WI
1
2
3
70JR
David Simpson Thunder Bay, ON
Thunder Bay, ON
1
3
6
68
Shadow Kitchner Arkansaw, WI
Arkansaw, WI
3
4
8
B37
Cody Borgeson New Richmond, WI
New Richmond, WI
4
5
7
24M
Adam Martinson Blaine, MN
Blaine, MN
2
6
4
18
Tyler Werner Menomonie, WI
Menomonie, WI
-2
7
9
86
Patrick Howell Hastings, MN
Hastings, MN
2
8
5
8
Brad Edington Elk Mound, WI
Elk Mound, WI
-3
9
11
61
Andrea Keeney Ridgeland, WI
Ridgeland, WI
2
10 DNF
12
78
Nate Erickson New Richmond, WI
New Richmond, WI
2
11 DNF
10
5
David Swearingen Stacy, MN
Stacy, MN
-1
DNS
1
4H
Grant Hall Brandon, MB
Brandon, MB
-
Finish
Start
#
Competitor
Hometown
+/-
1
2
34JR
Dan Larson Jr Eau Claire, WI
Eau Claire, WI
1
2
4
3JR
Shane Halopka Greenwood, WI
Greenwood, WI
2
3
1
89
Matt Klukas Colfax, WI
Colfax, WI
-2
4
3
343
J.D. Ford Somerset, WI
Somerset, WI
-1
Top 4 transfer
5
7
4H
Grant Hall Brandon, MB
Brandon, MB
2
6
6
8
Brad Edington Elk Mound, WI
Elk Mound, WI
-
7
5
86
Patrick Howell Hastings, MN
Hastings, MN
-2
Finish
Start
#
Competitor
Hometown
+/-
1
1
13
Nick Koehler Bloomer, WI
Bloomer, WI
-
2
3
7R
Tommy Richards Mondovi, WI
Mondovi, WI
1
3
4
17B
Zach Benson Princeton, MN
Princeton, MN
1
4
7
L1
Shane Howell Buffalo, MN
Buffalo, MN
3
Top 4 transfer
5
2
15
Karl Kolek Menomonie, WI
Menomonie, WI
-3
6
5
68
Shadow Kitchner Arkansaw, WI
Arkansaw, WI
-1
7
6
5
David Swearingen Stacy, MN
Stacy, MN
-1
Finish
Start
#
Competitor
Hometown
+/-
1
4
21
Jake Smith Fall Creek, WI
Fall Creek, WI
3
2
6
37
Travis Anderson Colfax, WI
Colfax, WI
4
3
7
2
Gunnar Watkins Elk Mound, WI
Elk Mound, WI
4
4
3
31
Jason Vokovan Eau Claire, WI
Eau Claire, WI
-1
Top 4 transfer
5
5
70JR
David Simpson Thunder Bay, ON
Thunder Bay, ON
-
6
1
24M
Adam Martinson Blaine, MN
Blaine, MN
-5
7
2
61
Andrea Keeney Ridgeland, WI
Ridgeland, WI
-5
Finish
Start
#
Competitor
Hometown
+/-
1
6
23D
Kevin Adams Cameron, WI
Cameron, WI
5
2
3
19
Josh Wahlstrom Rice Lake, WI
Rice Lake, WI
1
3
1
27X
Calvin Iverson Eleva, WI
Eleva, WI
-2
4
7
21B
Jesse Bryan Boyceville, WI
Boyceville, WI
3
Top 4 transfer
5
4
18
Tyler Werner Menomonie, WI
Menomonie, WI
-1
6
2
B37
Cody Borgeson New Richmond, WI
New Richmond, WI
-4
7
5
78
Nate Erickson New Richmond, WI
New Richmond, WI
-2
WISSOTA Pure Stock
Finish
Start
#
Competitor
Hometown
+/-
1
2
5R
George Richards Mondovi, WI
Mondovi, WI
1
2
5
E3
Kent Harmon Arkansaw, WI
Arkansaw, WI
3
3
1
03
Krysta Doughty Oakdale, MN
Oakdale, MN
-2
4
3
11
Tucker Quinn Ladysmith, WI
Ladysmith, WI
-1
5
4
26
Kyle Copp Brule, WI
Brule, WI
-1
6
7
49
Dean Pronschinske Strum, WI
Strum, WI
1
7 DNF
9
60
Mike Pratt Bloomer, WI
Bloomer, WI
2
8 DNF
8
4
Jeremy Cash Duluth, MN
Duluth, MN
-
9 DNF
6
R44
Patrick Smith Eau Claire, WI
Eau Claire, WI
-3
Finish
Start
#
Competitor
Hometown
+/-
1
2
5R
George Richards Mondovi, WI
Mondovi, WI
1
2
1
11
Tucker Quinn Ladysmith, WI
Ladysmith, WI
-1
3
4
26
Kyle Copp Brule, WI
Brule, WI
1
4
3
03
Krysta Doughty Oakdale, MN
Oakdale, MN
-1
5
7
E3
Kent Harmon Arkansaw, WI
Arkansaw, WI
2
6
9
R44
Patrick Smith Eau Claire, WI
Eau Claire, WI
3
7
8
49
Dean Pronschinske Strum, WI
Strum, WI
1
8
5
4
Jeremy Cash Duluth, MN
Duluth, MN
-3
9
6
60
Mike Pratt Bloomer, WI
Bloomer, WI
-3
All transfer