Driver rules and event information for the July 31st Demo Derby have been posted. Click here or visit the Rules page under Driver Info.

Red Cedar Speedway Donates to Menomonie High Hockey

Red Cedar Speedway's supporter Jeremy Bluem has been recognized as the 2022 Super Fan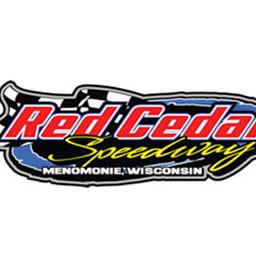 4/27/2018 - Red Cedar Speedway
Menomonie, WI
3rd Annual Randy Buss Icebreaker-Presented ByT & T Cons, Accurate Cons, DTS & Lewis Bjork Plumbing
This is the rain date from April 20th. We'll be racing Late Models, Mods, Super Stocks & Midwest Mods. The Following week May 5th will be the remaining classes opener plus the 4 from week before. May 5th will be all 7 classes.
WISSOTA Late Model
WISSOTA Modifieds
WISSOTA Super Stock
WISSOTA Midwest Mods