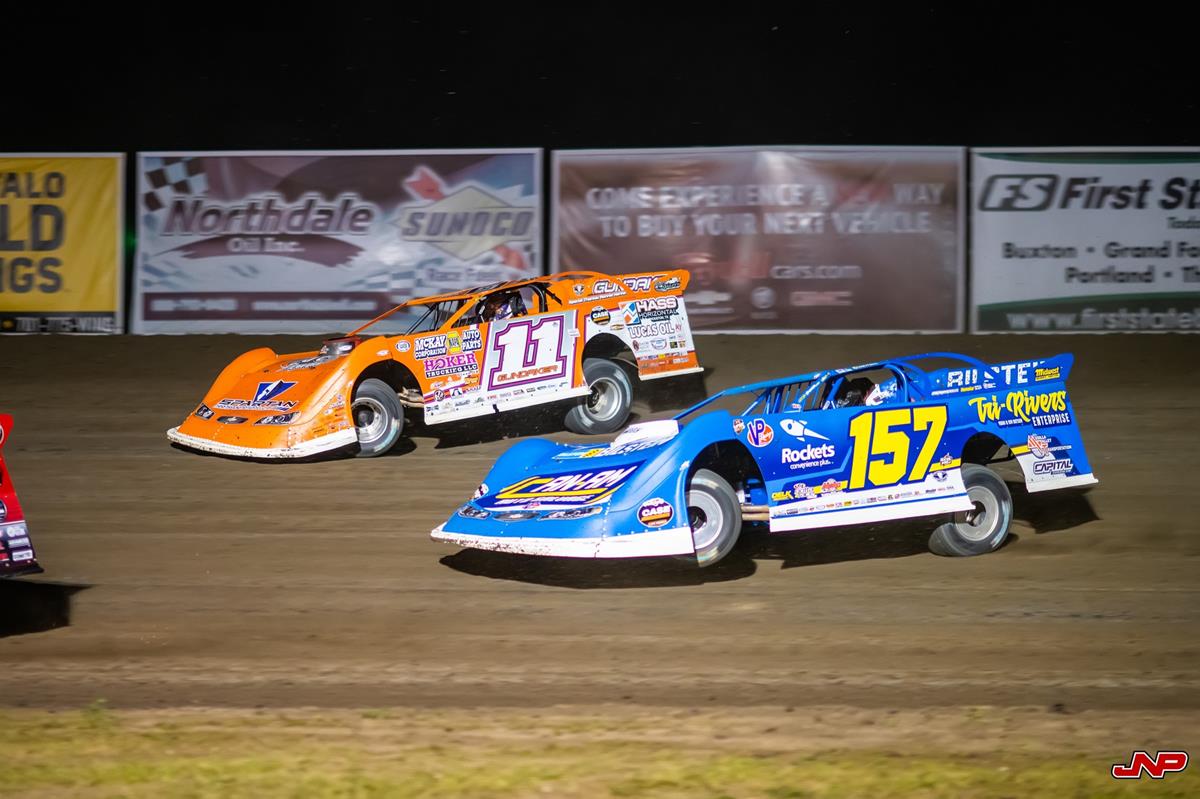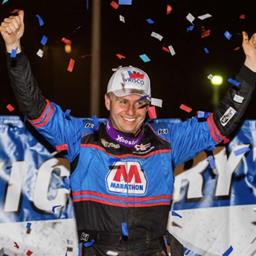 ---
Mike Marlar tops World of Outlaws foes at Red Cedar
Mike Marlar saw his extended week of racing draw to a close with a Sunday night World of Outlaws Case Late Model Series victory at Red Cedar Speedway aboard his Delk Equipment Sales / Tri-Rivers Enterprises No. 157 Can-Am Auto Salvage / Longhorn Chassis / Cornett Racing Engine Super Late Model.
Marlar had to power past early leader Ricky Weiss to get his seventh win of the year.
"When I took off, my right rear tire didn't fire like I wanted it to," Marlar said. "It was kind of just not going very good. So, when that happened, I was just kind of no good for a few laps there, and then we had that caution, and I scrubbed it around under caution and felt it was gripping a little better.
"We've been really consistent here lately, and we're looking forward to Huset's (Speedway) and I-80 (Speedway) this week. There's some big money on the line, and we're going to see if we can't win as much of it as possible."
Monday saw Mike Marlar return to action at Stuart Speedway (Stuart, Iowa) for the two-day event with the XR Super Series.
With a heat win placing him on the second row for the opening night feature, Marlar lost one spot in the 50-lap affair to register a fourth-place finish. He followed Jonathan Davenport, Tim McCreadie, and Ryan Gustin across the line with Chad Simpson in fifth.
On Tuesday afternoon, Mike fended off a charging Ryan Gustin in his heat to pick up the eight-lap victory. Holding his fifth-starting position in the 50-lap feature, Marlar raced to his 11th consecutive top-five finish with a fifth-place outing. He trailed Chris Madden, Bobby Pierce, Jonathan Davenport, and Jimmy Owens to the checkers.
Back in action on Friday, Marlar trekked north to River Cities Speedway (Grand Forks, N.D.) to compete with the World of Outlaws Case Late Model Series. Starting the $10,000-to-win A-Main via a second-place finish in his heat, Mike gained three spots to register a third-place finish.
With Saturday's program at I-94 Sure Step Speedway (Fergus Falls, Minn.) falling to Mother Nature, Mike traveled to Red Cedar Speedway (Menomonie, Wis.) on Sunday for the weekend finale. Receiving the pole for the feature via the redraw, Marlar stole the lead from fellow front-row starter Ricky Weiss on the sixth circuit and led the remainder of the 40-lapper to claim his seventh win of the season and a $10,000 payday. He recorded his 10th World of Outlaws triumph ahead of Ricky Weiss, Dennis Erb Jr., Shane Clanton, and Jimmy Mars.
Full results from the week are available at www.XRSuperSeries.com and www.WoOLMS.com .
This week – July 19 – 23 – Marlar will enter four nights of Lucas Oil Late Model Dirt Series (LOLMDS) competition. Action opens on Tuesday with a $10,000-to-win program at South Dakota's Huset's Speedway. From there the team will trek south to the Kosiski-family owned I-80 Speedway (Greenwood, Neb.) for the 12th Imperial Tile Silver Dollar Nationals weekend. On Thursday night the $12,000-to-win Dirt Track Bank Go 50 starts the party before seeing 12th annual Imperial Tile Silver Dollar Nationals held on Friday and Saturday, which culminates with a $53,000-to-win finale.
For more information on the events, please visit www.LucasDirt.com .
Back to News