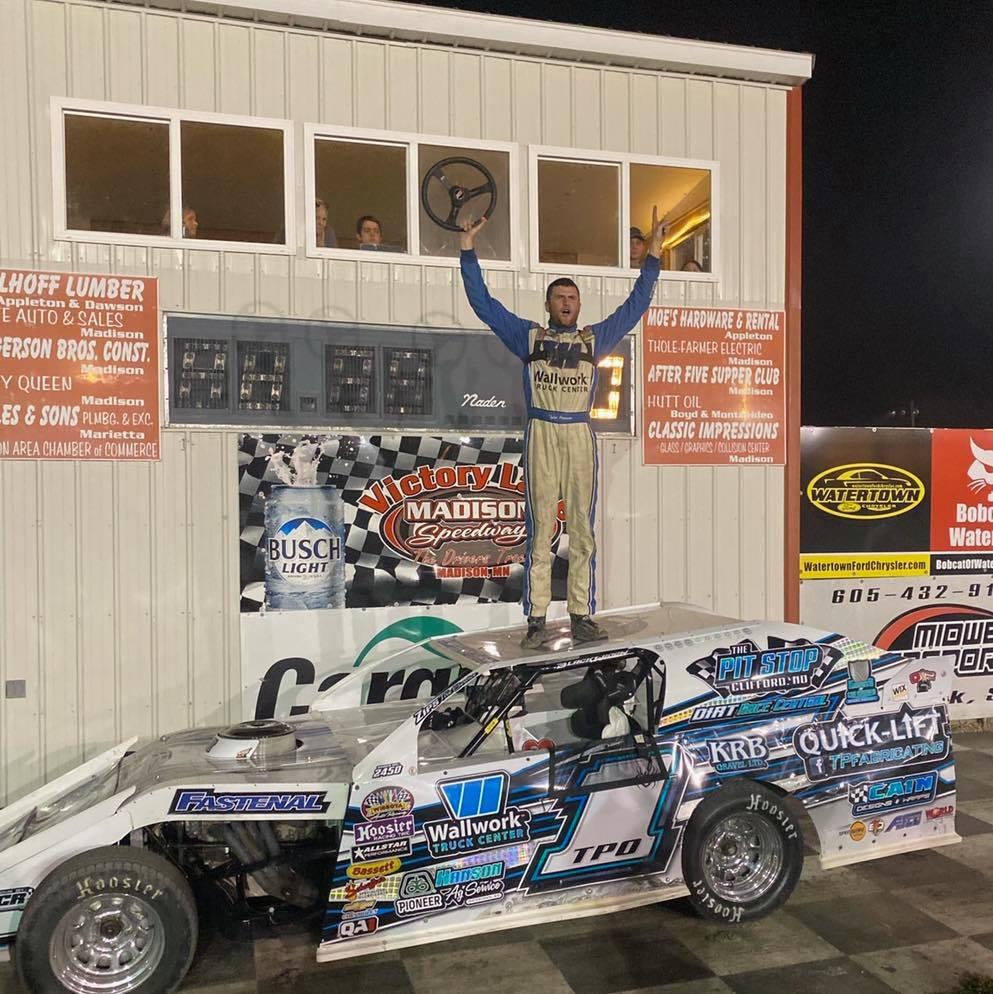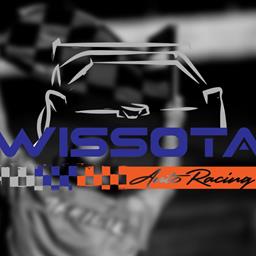 ---
Peterson Powers to WISSOTA Modified National Title by One Point at Season's End
FYE Motorsports Promotions
Hickson, North Dakota's Tyler Peterson claimed the 2021 WISSOTA Modified National Championship in thrilling fashion, by only one single point, for his season-long efforts after competing in nearly 70 WISSOTA-sanctioned events across four states and amassing 20 sanctioned victories along the way. Along with the 69 WISSOTA events, he also competed in a dozen Open and USRA-sanctioned Modified events, picking up a win to kick start his 2021 season in Arizona back in January, plus he competed in five WISSOTA Late Model races, racing to four top-ten finishes in those five starts in the full fendered division.
Peterson, who has been a front runner in the open-wheel divisions (WISSOTA Midwest Modifieds and WISSOTA Modifieds) throughout his entire career, put together a dream season from start to finish during the 2021 season to reach his ultimate goal of winning WISSOTA's National title for the first time.
As mentioned, during the 2021 racing season, Tyler raced to an impressive 20 WISSOTA-sanctioned feature wins in 69 events across WISSOTA-country, including victories during the Big Buck Nationals at the Brown County Speedway in Aberdeen, SD; sweeping both nights of the John Seitz Memorial Late Model Invitational at the River Cities Speedway in Grand Forks, ND; winning two preliminary nights at the WISSOTA 100 at the I-94 Speedway in Fergus Falls, MN, winning one night of the Autumn Clash at the Casino Speedway in Watertown, SD and sweeping both nights of the Madtown Showdown at the Madison Speedway in Madison, MN to clinch the national title. He also was crowned as the I-94 Speedway Modified Track Champion for his efforts. Tyler was quick to remember the night that he raced at the Bemidji Speedway in Bemidji, MN, and then quickly loaded up and sped (literally) to the Granite City Motor Park in Sauk Rapids, MN to tag the tail of the feature to try to possibly pick up those all-important points. He said 'that was a long night. Chasing points will make you do some stupid things.'
Sponsors on Tyler's #1TPO Race Cars include QuickLift by TP Fabricating, Wallwork, Hanson Ag Service, The Pit Stop of Clifford, Knights of Columbus Beebe Agency, Cain Designs, AllFab Railings & Metalworks, Powdercoat Specialists, Daly Construction, Fastenal, and KRB Gravel.
Tyler is supported by his wife Sierra, his dad Matt, his mom Donna, as well as his crew, which consists of Jon Beebe, Zach Polaschek, and Michael Olson, along with his dad and wife.
None of Tyler's success would be possible without the unwavering support of his family, friends, and sponsors and when asked about winning the National Championship he said 'it's surreal. I would have never thought in my career that my team and I would be able to pull one off. I'm glad I got to go head-to-head with WISSOTA's best in an all-out dogfight right to the very end. It's special and I will forever cherish it!'
Tyler has been racing for 11 seasons, with his first 4 spent in the WISSOTA Midwest Modified division, before he moved into the WISSOTA Modified class, where he has been a force ever since.
Of the 69 races Tyler competed in, he proved to be a consistent top runner, finishing with 20 wins, 51 top 5, and 64 top 10 runs, and topped multi-time national champ Shane Sabraski, who finished second in the final point tally by a single point to secure the national title. 283 drivers competed in at least one WISSOTA-sanctioned event during the 2021 season and Peterson bested all with his championship run. During his 21-win season, he eclipsed the 100-win mark and will enter the 2022 season with 102 career victories looking to add to that title early and often, planning on returning to the Modified division again in 2022 to try to defend his national title.
Congrats!
The WISSOTA Promoters Association exists to benefit its member tracks to enhance safe, profitable and successful dirt track racing, through unified, cost-effective rules, policies and procedures, enacted within a democratic environment.
The WISSOTA Promoters Association was founded in 1981 by eight track promoters in Wisconsin and Minnesota, with intent to offer uniform rules for the promoters and drivers involved in the Late Model division. Soon, the group decided to do the same for the growing Modified division.
In 1984 a voluntary steering committee was formed to oversee the business aspects that developed and to guide the future of WISSOTA's racing divisions. That steering committee evolved into a board of directors, and the non-profit racing organization became incorporated in 1986.
Promoters who join the organization become, in essence, part owners of the racing organization and are expected to contribute to its overall success. Each November, the WISSOTA annual meeting is held; the member promoters gather annually in this forum to discuss the future of the organization. Member promoters are given the opportunity to vote on all organizational policies and procedures as well as rules for competition in the various racing divisions. WISSOTA's member promoters and racing associations have spent approximately 30 years of hard work at the annual meetings crafting unique rules for each of the divisions, which are known as WISSOTA Late Models, WISSOTA Modifieds, WISSOTA Super Stocks, WISSOTA Street Stocks, WISSOTA Mod Fours, WISSOTA Pure Stocks and WISSOTA Hornets.
WISSOTA is proudly sponsored by Hoosier Racing Tire, Speedway Motors, Afco Racing Products, Structural Buildings, Chevrolet, Engine Quest, Schaeffer's Specialized Lubricants, JPW, World Products, Manley, QA1, Allstar Performance, Richmond, My Race Pass, Bassett, Brodix Cylinder Heads, AMI Graphics, Wilwood Disc Brakes, Isky Racing Cams, MSD, Quarter Master, Leighton Broadcasting, Lou Fegers Racing Equip., Comp Cams, Aero, Dirt Track Supply, Dominator Race Products, Eagle, Icon, Intercomp, Joe Provo Racewear, Fuel Air Spark Technology, Mahle, Genesis Racing Shocks, Lunati, Moser Engineering, Scat Crankshafts, Winning Edge Graphics, Champ Pans, CP Carillo, Performance Auto, ATD, Holley, Best Western Hotels & Resorts, Rosebud Wood Products, Auto Meter, Minuteman Press and Fox.
For more information on WISSOTA, log on to www.WISSOTA.org.
---
Article Credit: Chris Stepan
Submitted By: Camryn Sullivan
Back to News