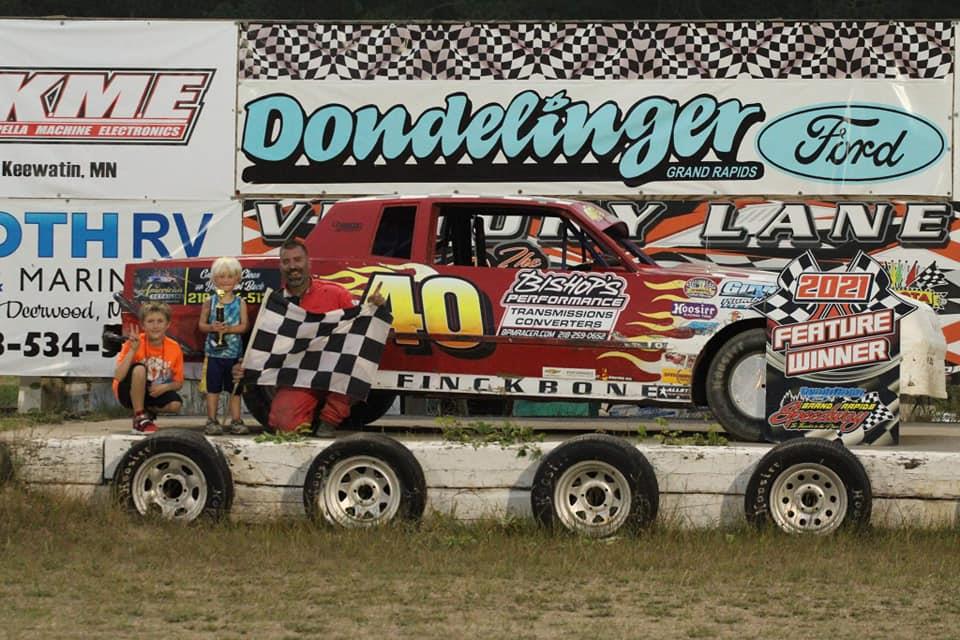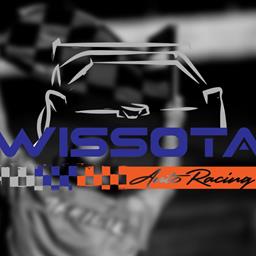 ---
Finckbone Forges to WISSOTA National Title in Pure Stock Division
FYE Motorsports Promotions
Chad Finckbone has been a household name in auto racing on Minnesota's Iron Range for many years, but no prior season has compared to the 2021 campaign the Grand Rapids, Minnesota racer just completed, which lead to his first-ever National Championship.
Chad, who competed in twenty-five events at his two local tracks, the Grand Rapids Speedway in Grand Rapids, MN and the Hibbing Raceway in Hibbing, MN, raced to twenty-one victories on his way to being crowned as the WISSOTA Pure Stock National Champion, the Minnesota Pure Stock State Champion, as well as picking up track championships at both Grand Rapids and Hibbing.
Nearly as impressive as his 21 victories is the fact that in the four races that he entered that he did not win, he finished second twice and third during the other two events, never finishing outside of the top three all season long. Chad's season was so impressive, tracks began to put out bounties on his and he says one of his most memorable wins of the season was winning the Labor Day Shootout in Hibbing and collecting the bounty that was on him that night as well.
Chad's #40 is sponsored by Bishop Performance, Guy's Plumbing and Heating, American Detail, Mr. Furnace, Radko Iron & Supply, Bass Brook Recycling, Dust B Gone and Win or Lose, Steve's Buying. His family consists of his fiancé Kara, his son Chaston, his daughter Haylee, his stepdaughters Kaitlyn and Kally, and his stepson Kody.
His 2021 Championship run came in his 21st season behind the wheel as Chad has been a stalwart on the dirt tracks for better than two decades. His career began in the Mini Stock class back in 1993 and after competing in the Mini Stocks for four seasons, he jumped into the Street Stock class in 1997 and ran in that division for five years until he purchased a Super Stock and began his Super Stock career, which ran from 2002 through 2007. He tried his hand at racing in the Mod Four division in 2008, the Midwest Modifieds in 2009 before retiring from racing for a few years to concentrate on racing Motocross, which he did in 2013 and 2014, winning the '14 District 23 Championship for his efforts before settling into the Pure Stock class in 2018, where he has been a force ever since.
No doubt this will be a season to remember for Chad as he said he has always wanted to be a National Champion and the fact that he won it in 2021, the final year that he plans to compete, makes it even more bittersweet. The car that Chad won the title in was built for the purpose of his son Chaston to race and the plan is for Chad to retire and serve as the crew chief for Chaston, who will step into this proven championship-winning car at the start of the 2022 season.
Congrats!
The WISSOTA Promoters Association exists to benefit its member tracks to enhance safe, profitable and successful dirt track racing, through unified, cost-effective rules, policies and procedures, enacted within a democratic environment.
The WISSOTA Promoters Association was founded in 1981 by eight track promoters in Wisconsin and Minnesota, with intent to offer uniform rules for the promoters and drivers involved in the Late Model division. Soon, the group decided to do the same for the growing Modified division.
In 1984 a voluntary steering committee was formed to oversee the business aspects that developed and to guide the future of WISSOTA's racing divisions. That steering committee evolved into a board of directors, and the non-profit racing organization became incorporated in 1986.
Promoters who join the organization become, in essence, part owners of the racing organization and are expected to contribute to its overall success. Each November, the WISSOTA annual meeting is held; the member promoters gather annually in this forum to discuss the future of the organization. Member promoters are given the opportunity to vote on all organizational policies and procedures as well as rules for competition in the various racing divisions. WISSOTA's member promoters and racing associations have spent approximately 30 years of hard work at the annual meetings crafting unique rules for each of the divisions, which are known as WISSOTA Late Models, WISSOTA Modifieds, WISSOTA Super Stocks, WISSOTA Street Stocks, WISSOTA Mod Fours, WISSOTA Pure Stocks and WISSOTA Hornets.
WISSOTA is proudly sponsored by Hoosier Racing Tire, Speedway Motors, Afco Racing Products, Structural Buildings, Chevrolet, Engine Quest, Schaeffer's Specialized Lubricants, JPW, World Products, Manley, QA1, Allstar Performance, Richmond, My Race Pass, Bassett, Brodix Cylinder Heads, AMI Graphics, Wilwood Disc Brakes, Isky Racing Cams, MSD, Quarter Master, Leighton Broadcasting, Lou Fegers Racing Equip., Comp Cams, Aero, Dirt Track Supply, Dominator Race Products, Eagle, Icon, Intercomp, Joe Provo Racewear, Fuel Air Spark Technology, Mahle, Genesis Racing Shocks, Lunati, Moser Engineering, Scat Crankshafts, Winning Edge Graphics, Champ Pans, CP Carillo, Performance Auto, ATD, Holley, Best Western Hotels & Resorts, Rosebud Wood Products, Auto Meter, Minuteman Press and Fox.
For more information on WISSOTA, log on to www.WISSOTA.org.
---
Article Credit: Chris Stepan
Submitted By: Camryn Sullivan
Back to News