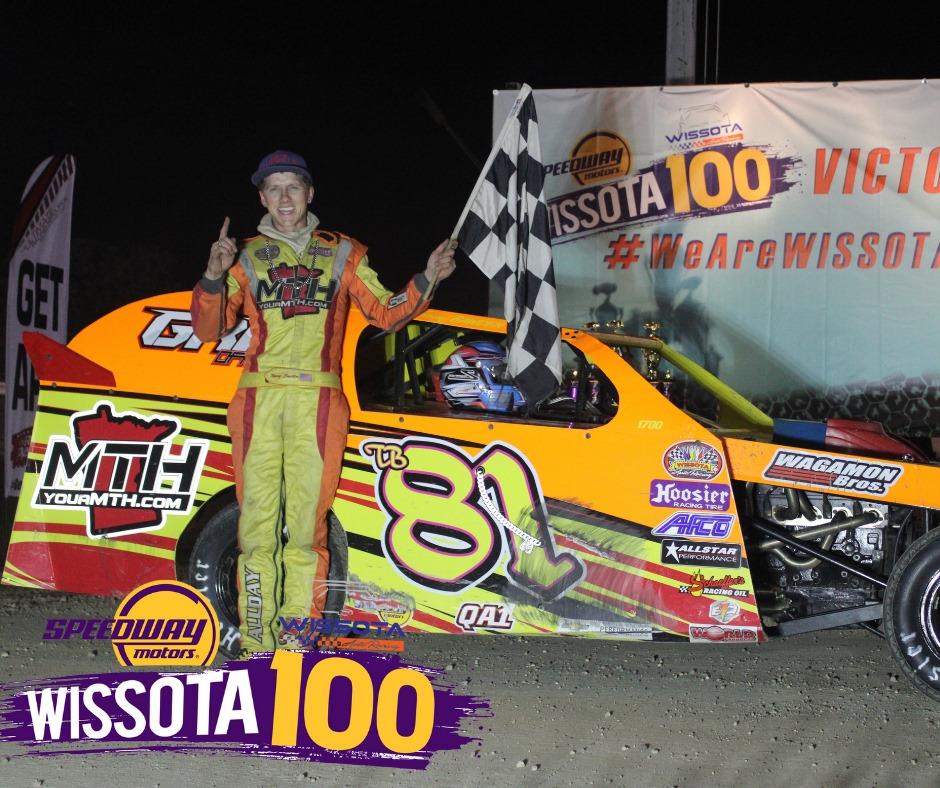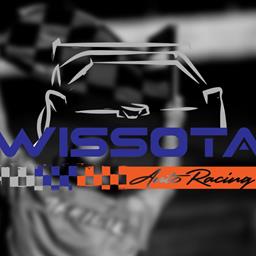 ---
Bawden Blasts to 2021 WISSOTA Mod Four National Title
FYE Motorsports Promotions
Clear Lake, Minnesota's Tommy Bawden charged to the 2021 WISSOTA Mod Four National Championship after a 31-win season bested the other 89 Mod Four drivers in the final national point standings. Midland, South Dakota's Clint Jensen finished with runner-up honors twenty-eight points behind Bawden at the season's end.
Bawden entered 55 events, won 31 of them, with 17 of those wins being clean sweeps, and was able to finish inside the top ten in 47 of the 55 events he entered, recording 44 top-five finishes as well along the way. Of his 31 wins, he picked up several big ones along the way, including the Ron Johnson Memorial, WWE, and Mighty Axe Nationals, all at the North Central Speedway in Brainerd, MN; the Piston Cup at the Granite City Motor Plex in Sauk Rapids, MN; the Can-Am Clash at the Gondik Law Speedway in Superior, WI; the Half-Mile Nationals at the Black Hills Speedway in Rapid City, SD and the WISSOTA 100 at the I-94 Speedway in Fergus Falls, MN.
Other than the big wins previously mentioned, Tommy remembers the WISSOTA 100 as the biggest win of his career thus far as 'that's everyone's biggest goal of the year when it comes to a special race, but winning with someone else's car at the Can-Am Clash was pretty damn cool as well. That put a whole different type of confidence on me personally. It wasn't just my car that was winning races! Always stay humble tho.'
Entering his 9th year racing cars, Tommy said 'we came into this year with one goal in mind and that was to win the National Championship. Last year with Covid-19, that wasn't an option (WISSOTA did not crown National Champions in 2020), so we ran for track points and won several track championships, but had no intention of running for track points this year. We wanted that National Championship and we were able to accomplish our goal.'
Tommy's #TB81 is sponsored by Minnesota Truck Headquarters, Dean's Heating & Air Conditioning, 419Hemp, Plexus, Stoplight Bait, Walks on Water, Donovan Ent., Northern Maintenance Free Exteriors, Kinitski's Bar and Grill, Gary's Tire Shop, CMD Race Shocks and Wagamon Brothers Performance Race Engines.
His crew consisted of his dad Lelou and his kids, Ryder and Mia. He also wanted to give thanks to Adam Prieve, Patrick Specht and Cristina for their support throughout the season as well. On winning the title, Adam said 'being a National Champion is something that has always been a dream. To be able to turn it into a reality is literally indescribable. I still can't even believe it.'
The 2022 plan for Tommy is to focus his attention back on his son's Go-Kart schedule but plans to race his Mod Four as often as he is able to as well, with hopes of landing in victory lane early and often during the season as he did this season.
Congrats!
The WISSOTA Promoters Association exists to benefit its member tracks to enhance safe, profitable, and successful dirt track racing, through unified, cost-effective rules, policies, and procedures, enacted within a democratic environment.
The WISSOTA Promoters Association was founded in 1981 by eight track promoters in Wisconsin and Minnesota, with intent to offer uniform rules for the promoters and drivers involved in the Late Model division. Soon, the group decided to do the same for the growing Modified division.
In 1984 a voluntary steering committee was formed to oversee the business aspects that developed and to guide the future of WISSOTA's racing divisions. That steering committee evolved into a board of directors, and the non-profit racing organization became incorporated in 1986.
Promoters who join the organization become, in essence, part owners of the racing organization and are expected to contribute to its overall success. Each November, the WISSOTA annual meeting is held; the member promoters gather annually in this forum to discuss the future of the organization. Member promoters are given the opportunity to vote on all organizational policies and procedures as well as rules for competition in the various racing divisions. WISSOTA's member promoters and racing associations have spent approximately 30 years of hard work at the annual meetings crafting unique rules for each of the divisions, which are known as WISSOTA Late Models, WISSOTA Modifieds, WISSOTA Super Stocks, WISSOTA Street Stocks, WISSOTA Mod Fours, WISSOTA Pure Stocks and WISSOTA Hornets.
WISSOTA is proudly sponsored by Hoosier Racing Tire, Speedway Motors, Afco Racing Products, Structural Buildings, Chevrolet, Engine Quest, Schaeffer's Specialized Lubricants, JPW, World Products, Manley, QA1, Allstar Performance, Richmond, My Race Pass, Bassett, Brodix Cylinder Heads, AMI Graphics, Wilwood Disc Brakes, Isky Racing Cams, MSD, Quarter Master, Leighton Broadcasting, Lou Fegers Racing Equip., Comp Cams, Aero, Dirt Track Supply, Dominator Race Products, Eagle, Icon, Intercomp, Joe Provo Racewear, Fuel Air Spark Technology, Mahle, Genesis Racing Shocks, Lunati, Moser Engineering, Scat Crankshafts, Winning Edge Graphics, Champ Pans, CP Carillo, Performance Auto, ATD, Holley, Best Western Hotels & Resorts, Rosebud Wood Products, Auto Meter, Minuteman Press and Fox.
For more information on WISSOTA, log on to www.WISSOTA.org.
---
Article Credit: Chris Stepan
Submitted By: Camryn Sullivan
Back to News