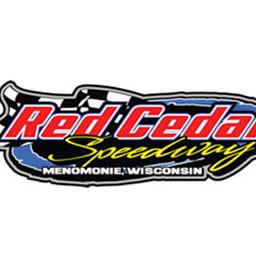 6/2/2020
Red Cedar Speedway
---
Attention Drivers Red Cedar Speedway Infomational Meeting!!!
RED CEDAR SPEEDWAY PUBLIC ANNOUNCEMENT MAY 29, 2020
Greetings friends and supporters of Red Cedar Speedway,
On June 9th the Red Cedar Racing Association (RCRA) and Dunn County Officials will meet to re-visit the status of opening the speedway. The time is now to get our voice heard by our county officials, that will ultimately make the decision to allow us to open Red Cedar Speedway (RCS).
The RCRA, fans, sponsors and competitors have always acted with dignity and respect to all entities within our community. Our goal has been and will continue to be, a valued asset of our community.
To have a positive impact on our quest to open, we need to do so in a positive way. Our actions today will not only impact the opportunity to race this season, but will also play a key role in future contract negotiations. Our county officials approve future contracts between RCS and Dunn County. We are asking you to reach out and communicate with Dunn County officials in a respectful way to assure our voice gets heard. Our mission should be to inform them on how our racing community can be cooperative, progressive and unified in our quest to open safely. By creating a dialogue between the racing community and county officials we can show our compassion and express the critical role our business plays in the health of the local economy.
We need your help by contacting the following Dunn County Facility Committee members in a respectful manner. Reach out to them, share this message with your friends to get them involved, in general "spread the word and take action" in our effort to open in 2020.
Dunn County Facilities Committee Members:
Charles Maves (Facility Committee chair) cmaves@co.dunn.wi.us 715-632-2486
Donald Kuether dkuether@co.dunn.wi.us 715-235-8351
Ron Score rscore@co.dunn.wi.us 715-643-3900
Michael Rogers mrogers@co.dunn.wi.us 715-231-2084
Tim Niehoff tniehoff@co.dunn.wi.us 715-235-1217
Dunn County Executive Board Chair
David Bartlett dbartlett@co.dunn.wi.us 715-949-1619
City of Menomonie Mayor
Randy Knaack mayor@menomonie-wi.gov 715-232-2369
Menomonie Chamber of Commerce
Ashley DeMuth ceo@menomoniechamber.org 715-235-9087
We also urge you to reach out to the many businesses that share the value of how racing impacts our community, asking them to join our effort and have their voice heard. If you'd like a current list of RCS sponsors, please reach out to the RCRA board, information is also available on our website.
The RCRA has been working very hard to get our voice heard with our county officials. We have met numerous times with our governing entities both county and city. We have provided them with an opening proposal document and have done (and are continuing to do) studies of local tracks that have opened successfully in our region and nationwide. As Menomonie Chamber of Commerce members, our friends at the Chamber are assisting us with safe opening resources and materials as well.
Here are some communication tips to assure our voice being heard in the most respectful way:
*Race tracks all around us have successfully opened while following safe guidelines and recommendations.
*Other "public land owned" speedways have opened and implemented "safe guidelines" by working with their governing bodies.
*As a fan-I'm willing to adhere to the recommendations, procedures, policies and/or guidelines that would be required of me attending racing action at the Red Cedar Speedway.
*As a fan-The past 60+ days of dealing with this virus has taught me much about the importance of my role, and empathy towards others as we deal with what is expected of me as the opening process continues.
* I can-social distance, follow CDC recommendations, practice good hygiene and be respectful of my neighbors at the facility.
*The CDC supports and encourages outdoor activities for both physical and mental health.
If you have further questions, suggestions or are wanting to help out, please reach out to the RCRA board, contact info can be found at redcedarspeedway.com or please send us a Facebook message.
Respectfully,
Red Cedar Racing Association Board
Back to News