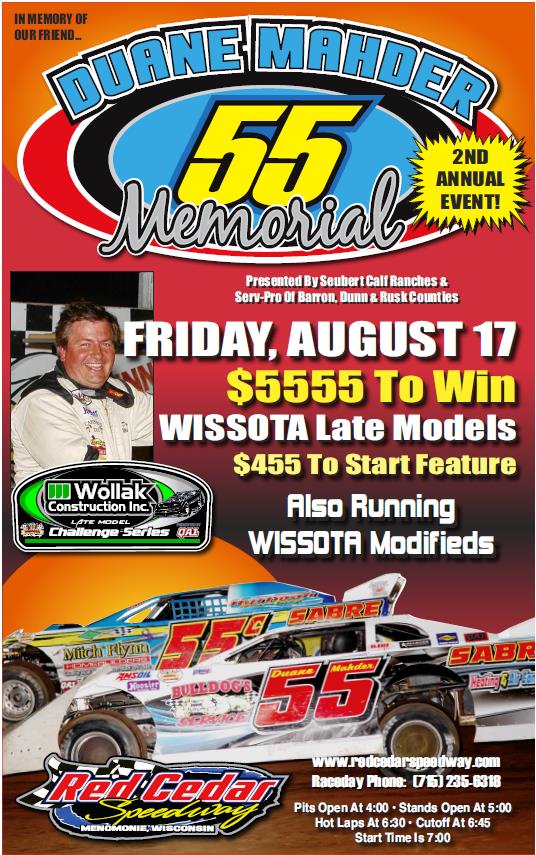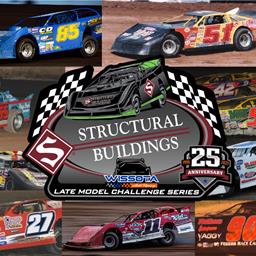 8/12/2018
Wissota Late Model Challenge Series
---
Challenge Series Hits Red Cedar, Cedar Lake This Weekend
Friday, August 17th the Wollak Construction WISSOTA Late Model Challenge Series presented by QA1 is back in action and headed to Wisconsin for two big nights of WISSOTA Late Model action.
First up is the 2nd annual Duane Mahder Memorial race at Red Cedar Speedway in Menomonie, WI. The event dedicated to Duane Mahder won honors last year as WISSOTA's "Event of the Year" and is set to once again pay the winner $5,555 to win and $455 to start the main event. The event is sponsored by Seubert Calf Ranches and Serv-Pro of Barron, Dunn, and Rusk Counties.
Saturday night the series heads to Cedar Lake Speedway in New Richmond, WI. For the first time since 2005, WISSOTA Late Models will battle it out for a shot at the $2,500 to win main event. All Late Model drivers will be required to be WISSOTA legal for the event including the existing WISSOTA tire rule. Please contact Bill Engelstad (bill@wissota.org) for questions regarding WISSOTA rules.
For more information on these events visit the track websites at www.redcedarspeedway.com and www.cedarlakespeedway.com
The Wollak Construction Points Standings have New Richmond native Pat Doar in the lead with Marshall Fegers in 2nd place. John Kaanta is in 3rd place, but will likely miss an event or two after an unfortunate off track incident that sidelined him for several weeks. Steve Laursen and Lance Matthees complete the top 5.
Current Series Points (Top 20)
1 11 Pat Doar New Richmond, WI 1087
2 F19 Marshall Fegers Mound, MN 1004
3 85 John Kaanta Elk Mound, WI 935
4 T18 Steve Laursen Cumberland, WI 906
5 90 Lance Matthees Winona, MN 888
6 71 Rick Hanestad Boyceville, WI 878
7 27 Jake Redetzke Eau Claire, WI 828
8 71JR Buddy Hanestad Boyceville, WI 770
9 10X Blake Swenson Watertown, SD 765
10 44 Darrell Nelson Hermantown, MN 734
11 42s Don Shaw Ham Lake, MN 699
12 7W Ricky Weiss Headingley, MB 672
13 6M Jeffrey Massingill Keewatin, MN 661
14 50 Jeff Wildung Nassau, MN 593
15 44C Cole Schill Horace, ND 549
16 37 Scott Ward Watertown, SD 464
17 15* Ryan Mikkelson Alexandria, MN 429
18 9 Kent Arment Aberdeen, SD 423
19 11 James Giossi New Richmond, WI 404
20 32 Jordan Tollakson Montevideo, MN 393
---
Submitted By: Craig Sullivan
Back to News